How Service Agencies Can Use EquipID to Improve Efficiency
August 24, 2021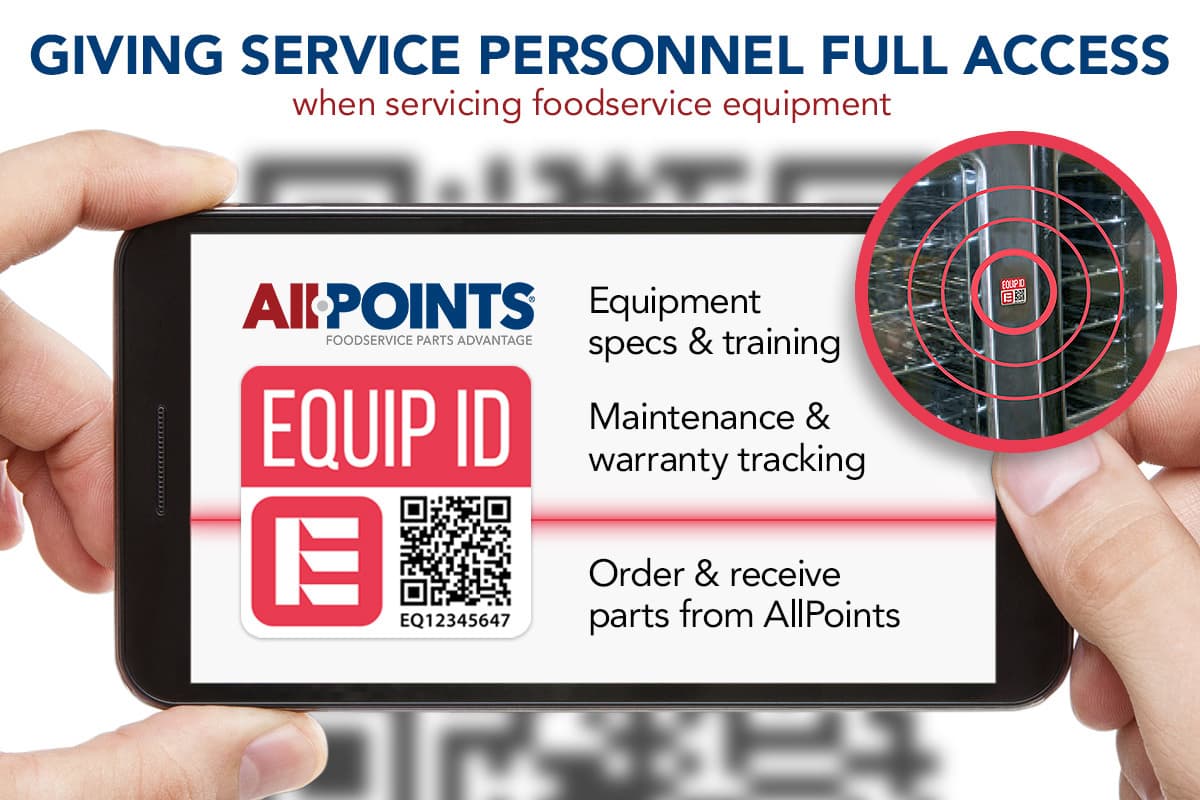 For service agencies, efficiency is the name of the game. Incorporating efficiencies into policies and processes is how they stay profitable and thriving in an uncertain economic climate for the foodservice industry.
That's why AllPoints recently partnered with EquipID, providing another tool to help service technicians improve efficiency.
What is EquipID?
EquipID is a supportive content and service validation platform that empowers service personnel by putting facility intelligence into their hands.
Let's face it, even the best-trained technicians will need assistance from time to time, and that's what EquipID is built for.
This digital logbook of equipment repair history and information uses the NFC reader that's available on any smartphone and provides on-the-spot technician training and access to equipment manuals, schematics, safety sheets and much more vital equipment data.
EquipID key features
Here's a full list of all the features you'll find in the EquipID app.
Equipment-specific features:
OEM manuals, schematics and wiring diagrams
Parts ordering
Material safety data sheets (MSDS)
How-to videos for both repairs and operations
Repair and maintenance event history
Notes for the future to share tribal knowledge
Service history from CMMS systems
BMS and IoT data
Replacement value
Model-specific features:
List of model-specific components and parts
Option to order parts directly from app or for pickup
Warranty tracking features:
Parent-child relationships
Components or parts replacement history and warranty status
How EquipID works
Anyone with a smartphone can access an equipment's EquipID log by simply using the NFC reader on their phones. Scanning the EquipID tag on a piece of equipment opens up the EquipID app for easy access to all the features listed above. It's really that simple.
One-click ordering with AllPoints
AllPoints has partnered with EquipID so that clicking "find part" through the EquipID app will send the parts order straight to AllPoints for fulfillment. EquipID is directly linked to our internal systems, so ordering is immediate.
Parts orders will also have the option of being picked up in person from a local retailer. If local pick-up isn't available, the part will ship directly from one of AllPoints' three distribution centers directly to the technician or store for repair.
Benefits of EquipID
EquipID is the future of equipment repairs and provides service techs with a tool to help streamline their operations. Using EquipID can improve first-time fix rates, reducing equipment downtime and repair costs.
It can also be a valuable resource for agencies to provide technician training and equipment manuals or information.
With one-click parts procurement, service techs get access to AllPoints' parts savings as well as our vast inventory of available parts.
With digitally enabled parts shopping and cutting-edge technology, using EquipID to help improve efficiency is a win-win.